Blenheim History
The Story Begins…
The natural mineral springs in Blenheim, South Carolina that are the genesis of today's ginger ale were chanced upon in 1781 by James Spears, a Whig, who was attempting to elude Tory troops. As legend has it, Mr. Spears lost his shoe in a water hole. When he came back later to recover his lost shoe, he sampled the water and discovered its potent mineral contents. News of the natural spring circulated around the countryside and before long, folks were arriving from far and wide to try out the cold, invigorating water supply of the spring. Numerous affluent plantation owners constructed summertime houses in the area surrounding Blenheim Springs to take advantage of the constant supply of the soothing, refreshing spring water.

In the later part of the 1800's, Dr. C. R. May counseled his patients with stomach troubles to drink in the water from the mineral springs. When his patients complained about the noticeable iron-like taste of the mineral water, Dr. May supplemented it with Jamaican Ginger to help make its flavor more appealing. In 1903, Dr. May and A. J. Matheson started the Blenheim Bottling Company next to the Blenheim Artesian Mineral Springs and began making Original Extra Pale. The structure which housed the original bottling plant was constructed in 1920 and operated as a working Bottler's Museum for a number of years before tragically burning to the ground in December of 2008. In 1993 the Blenheim Bottling Company was bought by the Schafer Family, who also own the South of the Border Tourist Complex. They instantly refurbished the aging industrial plant to conform to modern criteria, and set about bottling our unique ginger ale.
Within a few weeks, however, it was clearly apparent that the antiquated plant would never be able to fill the demand that existed for Blenheim Ginger Ale, so a brand new modern plant was constructed with greater capability, though preserving the character and uniqueness of the original facility. The current proprietors believe the continuing production and evolution of Blenheim Ginger Ale is a "Labor of Love". They unwaveringly trust there's a marketplace in America for a small-scale, but distinct, bottling company with an altogether unparalleled artesian product.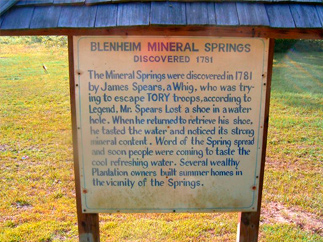 Blenheim Mineral Springs is located a short distance off SC 381 as you approach Blenheim, SC from Clio, SC or turn off SC 38 toward Clio, SC.
Although the Original Extra Pale #5 Not as Hot was gingery enough for many customers, our extra spicy and fiery Old #3 Hot has surpassed it in popularity. Now supplemented by the waistline conscious #9 Diet with low-calorie sweeteners, Blenheim continues the century old tradition of crafting straight up, hot as blazes old time ginger ale. Blenheim Ginger Ale is bottled ONLY in 12 ounce glass bottles, never in cans or plastic, assuring that it never tastes "tinny" or "off". All Blenheim products are now being packaged in packs of 6 bottles and cases 24 bottles. You can know for sure that today's Blenheim is just as fresh, clean and pure today as it was over 100 years ago.