2010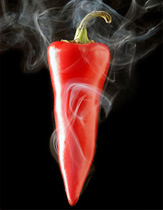 It's the dog days of summer here in Hamer, SC, the home of Good Ole' Blenheim Ginger Ale, and it's hotter than blue blazes around here. We even saw Pedro from South of the Border sweating! We know from our last post what a cool refreshing treat Blenheim Ginger Ale can be in the summer time. This time, we head in the opposite açai direction to show you how to beat the heat with the heat.
On hot days, we often think of cool and refreshing foods like ice cream, cold sodas and watermelon. But in many of the world's hottest regions, the food itself is fiery like Good Ole' Blenheim #3. Consider Indian curry, spicy Thai soup, or Jamaican jerk sauce. These places are where hot chile peppers grow, so they know about heat. They eat super spicy foods all summer long, as well as in the winter. Ever wonder why? Well now you know.
The reason for this comes from a thing called "gustatory facial sweating". Those are some pretty big words, but we have an expert to explain it to us. Luke LaBorde, a professor of food science at Penn State University explains that this happens when we eat a spicy food, or drink a fiery Blenheim Ginger Ale. The spicy heat of the food causes a person's face to sweat. The sweat is then evaporated from the skin, which has a cooling effect.
There are other more involved explanations involving digestion, blood flow and such which are way above our pay grade. But take our word for it, some very smart doctors and food scientists have it all worked out. We like to concentrate on the flavor part of the equation. That's why we take the time to brew Blenheim Ginger Ale in small batches from our secret recipe that has been perfected over the course of our 100+ years.
Until next time, take it easy out there, keep plenty of ice cold Blenheim Ginger Ale around, and drink the heat to beat the heat. As always you can check the Blenheim Store Locator to find it near you. You can always find it in stock at the shops on the South of the Border Tourist Complex grounds, and be sure to check out their new Reptile Lagoon attraction.
Our Official Facebook page and Twitter feed will keep you up to date on the latest info and news about Good Ole' Blenheim Ginger Ale.
3 million for destroyed sports memorabilia
A jury found Hockey Hall of Fame member Gordie Howe sustained $3 million in financial damages when former business managers destroyed sports memorabilia that was supposed to be returned under an agreement made to settle a previous lawsuit.
The 85 year old Howe of Bloomfield Township was in attendance at Oakland County Circuit Court on Tuesday in Judge Leo Bowman's courtroom with his son Mark. The Howes, along with Power Play International Company, the company that handled Howe's merchandise, sued Del and Michael Reddy, Aaron Howard and Immortal Investments, their former business partners.
In late 2007, Howe, his son and Power Play filed an 11 count complaint against Immortal, alleging they retained Howe's merchandise that was used to benefit for profit, according to the filed complaint. At the time, the dispute was over who specifically owned the paraphernalia.Cheap Jerseys from china
An agreement was eventually reached between both parties that dictated Howe's possessions, which included books, sticks, photos, jerseys, CDs, DVDs and personal documents, as well as videos of his late wife, Colleen, who died in 2009 at 76 of Pick's Disease, were supposed to be returned to the family. Pick's is a rare form of dementia marked by changes in mood, behavior and personality, followed by memory loss similar to that experienced in Alzheimer's.
Howe's family revealed last year that the hockey great has a mild form of dementia.
According to court records, a 16 foot moving truck and two passenger vans carrying Howe's merchandise were delivered by Michael Reddy to Steve Matta, Howe's attorney, in November 2008, including two invoices from Shred It for roughly $400 to destroy property of Howe's.
The decision by the Reddys to get rid of the memorabilia and personal documents was not denied in an affidavit by Michael Reddy.
"It would have literally taken months to go through these hundreds of family recordings to determine if members of the Howe family were depicted in some of the recordings."
Howe's attorney, Steve Matta, said after the decision was handed down in the civil case, "You're never going to replace what was destroyed."
What was destroyed were detailed in the Shred it receipts which included 17 bankers boxes containing 402 compact discs, 1,389 tapes, 134 DVDs and numerous documents and images. An affidavit from a Shred It operations manager corroborated the info provided in the invoices.
The Reddys had long maintained they were in the clear to destroy the property as part of the permanent injunction.
In the settlement agreement, the injunction explicitly states: "(Defendants) shall retain nothing in their possession which in any way depicts, relates, or in any way pertains to the Howe family, including any original or copies, digital and electronic, or analog, and all sources of digital or electronic copies shall be permanently erased or turned over to the Plaintiffs."
The last part of the injunction is what the defendants maintained as their reason for their action, a "safe harbor" provision, that allowed them to destroy certain property in their possession. They also long maintained that the property held no commercial value and therefore could not have caused financial damages upon the family.
The defendant's attorney Anthony Randazzo declined to comment after court was adjourned.
The fact the items were the Howes' possessions and were eventually destroyed was a fact never disputed in the case. Bowman had already ruled earlier that the Reddys and Immortal had breached the 2008 agreement, leaving the jury to decide if the Howe family and Power Play incurred financial damage through the incident, and, if so, how much the damage was worth.
All of the jurors five women and one man agreed that the evidence presented supported the notion that the company sustained financial damage. But one female juror told Bowman she disagreed that it was in the amount of $3 million.
Matta said he expects an appeal will be filed in the decision.
"They have not made this easy throughout the litigation," he said. "I fully expect an appeal."
Appearing to at least be relishing in the moment as they exited the courtroom and started walking down the hall, Matta wrapped his left arm around Howe and said, "Congratulations Gordie."