Archive for November, 2009
|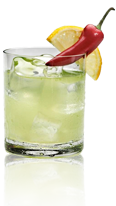 One of our loyal and long time Blenheim Ginger Ale fanatics sent us this recipe for his favorite mixed drink. He calls his cocktail creation "The S.O.B;" surely named after where our production plant is located on the grounds of the famed South of the Border tourist attraction in Hamer, South Carolina. Ok, we're not really sure about that fact, but that's our story and we are sticking to it! His recipe for the "The S.O.B" is pretty simple, but has a very complex flavor combination that provides equal parts of sweet, spicy and sour which come together to form a drink that kicks back like an angry mule.
The recipe:
Using a standard old-fashioned glass or a Collins glass with a couple of ice cubes in it, add a jigger (1.5oz) of your favorite anejo or gold tequila, a ¼ cup (4oz) Blenheim Old #3 Hot, and  .5oz of fresh lime juice and stir slowly so you don't lose all the bubbles and fizz of the soda. Add a slice of lime wedge on the rim, then sit back, relax and sip away with your favorite Mexican food, some Buffalo wings, or a big juicy steak hot off the grill.
Do you have a favorite recipe that calls for Blenheim Ginger Ale? How about the memory of your first sip of our spicy brew and how you were instantly hooked? What's the craziest thing you have done to get a taste of Blenheim in your life? Send us your story and we might just add it to our Blog in the future.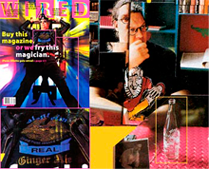 Penn Jillette is a fan of Blenheim Ginger Ale and wore a Blenheim shirt on the cover of Wired Magazine.
Text from Penn Jillette during Wired Magazine interview:
A few weeks later, I drop by Penn's apartment to hear him rant. I figured ranting – really showing passion about certain topics – is the blood test of the truly wired. I find Penn going through his e-mail at his desk, sipping a Blenheim Ginger Ale, from Blenheim, South Carolina – his new cult-fave drink – and Colin is hovering around, fetching him stuff. The Voice Organizer is recharging in its holster. And Penn pauses, his eyes gleaming, his hair electrocharged, his heart pounding, and Blenheim Ginger Ale coursing through his veins. Penn says: "I have nothing to say about her." Clearly, even Penn Jillette has his limits.
By Joshua Quittner
© 1994-2003 Wired Digital, Inc.

2009
By WILLIAM GRIMES
Published: Wednesday, February 25, 1998
THE first swallow brings on a four-sneeze fit. The second one clears out the sinuses and leaves the tongue and throat throbbing with prickly heat. John T. Edge, a food scholar with the Center for the Study of Southern Culture at the University of Mississippi,has compared it to "a slap in the face from a spurned lover." Blenheim Ginger Ale, the sweet-hot pride of South Carolina, pulls no punches, and its feisty approach has propelled it from modest regional fame to cult status.
The beverage was created in the 1890's by a doctor named May in Blenheim, S.C., who added Jamaica ginger and sugar to the local spring water and dispensed it as a tonic for dyspepsia. In 1903, Dr. May and a partner created the Blenheim Bottling Company, which chugged along until 1993, when it was acquired by the company that owns the South of the Border amusement complex. In addition to moving the bottling plant to the amusement park, the new owners developed a milder formula, known as No. 5, which is a shade lighter than the original and has a brass-colored bottle cap rather than a raspberry one.
Pour Blenheim's over ice, which helps cut the sweetness, or use it to kick-start a couple of cocktails. Mixed with Gosling's Black Seal rum and a wedge of lime, it makes a wicked Dark and Stormy, and just a few ounces of Blenheim's does wonders for a cheap bourbon. WILLIAM GRIMES
|