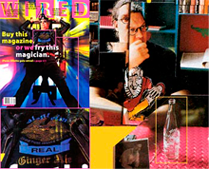 Penn Jillette is a fan of Blenheim Ginger Ale and wore a Blenheim shirt on the cover of Wired Magazine.
Text from Penn Jillette during Wired Magazine interview:
A few weeks later, I drop by Penn's apartment to hear him rant. I figured ranting – really showing passion about certain topics – is the blood test of the truly wired. I find Penn going through his e-mail at his desk, sipping a Blenheim Ginger Ale, from Blenheim, South Carolina – his new cult-fave drink – and Colin is hovering around, fetching him stuff. The Voice Organizer is recharging in its holster. And Penn pauses, his eyes gleaming, his hair electrocharged, his heart pounding, and Blenheim Ginger Ale coursing through his veins. Penn says: "I have nothing to say about her." Clearly, even Penn Jillette has his limits.
By Joshua Quittner
© 1994-2003 Wired Digital, Inc.
This entry was posted on Saturday, November 7th, 2009 at 9:19 pm and is filed under News & Press. You can follow any responses to this entry through the RSS 2.0 feed. Both comments and pings are currently closed.