Archive for the 'Blenheim History' Category
|

2014
Blenheim Ginger Ale is America's favorite old-timey spicy ginger ale. Our family run business based at America's favorite roadside attraction, South of the Border in Hamer, SC, has been making the most flavorful ginger ale on the market for over 100 years. Every once in a while we like to spotlight one of the fine stores that carry the best hot ginger ale on the planet.
This month we visit the Sweet Briar Country Market in Lexington, NC. In addition to carrying Good Old Blenheim Ginger Ale, they carry Amish foods, bulk foods, fresh baked goods, all-natural meats and much more. Located in the downtown section of North Carolina's barbeque capitol, this store brings a great variety of classic country market goods to shoppers. Here's the front so you won't cruise by it's location at 28 West 2nd Street.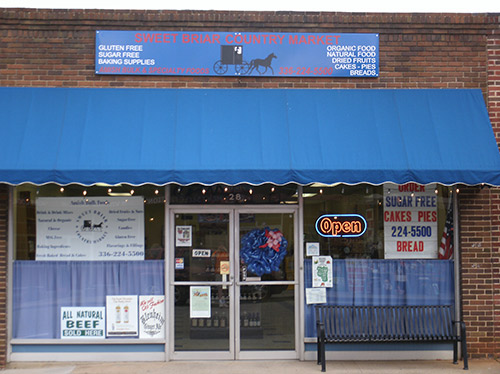 Look for the We Sell Old Fashion Blenheim Ginger Ale sign as you walk down the street.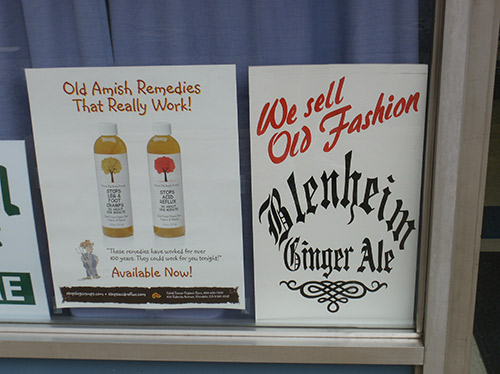 Sweet Briar stocks all three of our ginger-blasted sodas: #3 Hot Red Cap, #5 Not-As-Hot Gold Cap, #9 Diet White Cap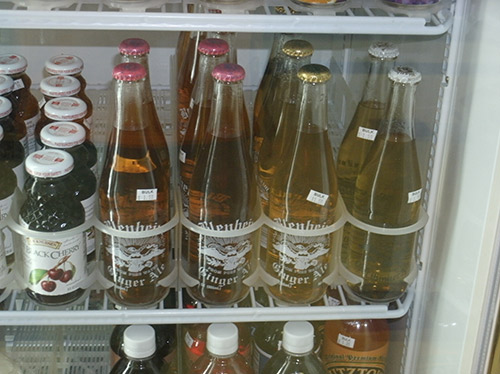 How about a bag of delicious sweets? They sell all sorts of candy from classics like Squirrel Nut Zippers and liquorice to different kinds of gummy candy that the kids just love. An with Valentine's Day right around the corner all the chocolate flavors and fudge would be perfect.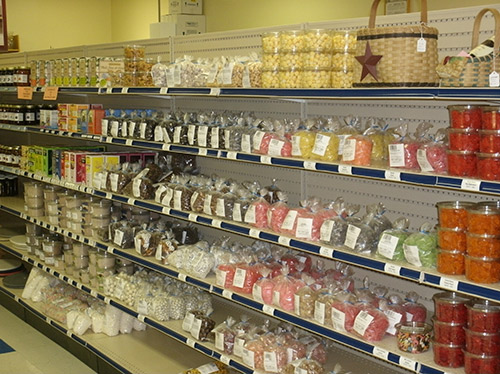 If one nice, cold Blenheim Ginger Ale just isn't enough for you, grab a whole case while you are here.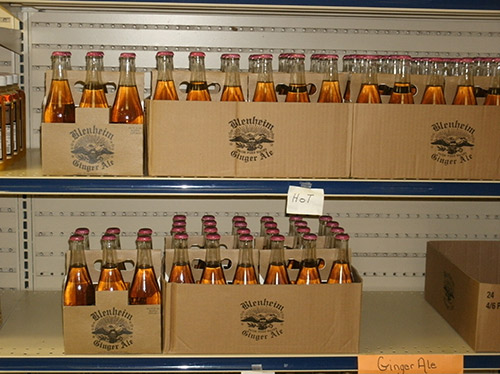 Sweet Briar Country Market has just about any spice or seasoning mix that you might want. We brought home some whole nutmeg and a little gadget that had a place to store a piece of nutmeg inside and a fine grater. Now our Bechamel sauce really has real zing to it.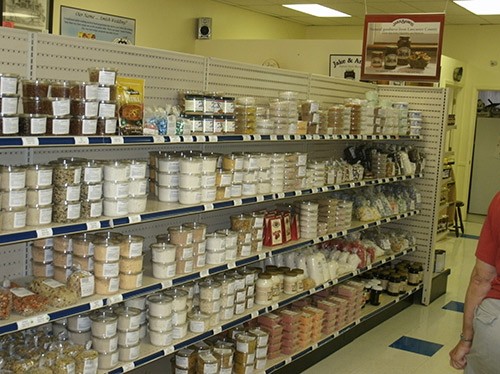 Amish foods are a specialty at Sweet Briar in Lexington, NC. You can find jams, jellies, honey, salsas and a wide variety of pickled vegetables. The pickled eggs are a must try and they go really well with our Old #3 spicy ginger ale.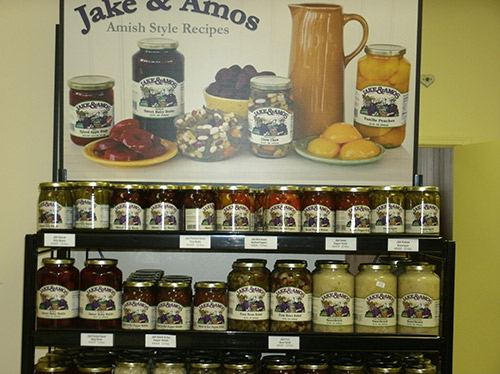 So the next you around Lexington, NC and get the craving for the best ginger ale on the planet, stop by Sweet Briar Country Market and pick up a case or three of Good Ole Blenheim Ginger Ale. If you can't find our ginger ale near you, we can ship it to you by the case directly from the Blenheim Shop. Our Interactive Blenheim Store Locator will help you find the retailer nearest to you.

2010
For over a century now, Blenheim Ginger Ale has been a powerful cure for everything from an unquenchable thirst to a bad hangover. The mineral springs located in Blenheim, South Carolina have been renowned for their soothing effect on upset stomachs since the 1800's. To tame the strong taste of the spring water, a local doctor added Jamaican ginger root to the water as a flavor enhancer and as a healing boost. This heady potion would go on to become the Blenheim Ginger Ale we all know and love today.
My first encounter with ginger's healing properties came over 15 years ago. I worked at a Chinese restaurant in college, and anytime I felt a bit under the weather, nauseous or hung-over Mrs. Wang would come to my rescue with her special ginger soup. It was a mix of sugar, water, broth and plenty of ginger slices boiled together for a bit. She explained to me that ginger had been used for thousands of years in Chinese herbal medicine as a treatment for stomach ailments. The earliest written record of use in Chinese medicine came more than 2000 years ago. The Chinese certainly had it figured out a while ago. That warm, spicy soup would always bring me back to life and have me feeling right in no time.
Many Moms and Grandmothers in the South have known for generations about ginger and ginger ale's ability to calm an upset stomach. Now modern research has shown Dr. Mom had the right prescription all along. Studies have shown ginger to be an effective way to prevent seasickness and motion sickness. The popular "Mythbusters" TV show on the Discovery Channel did an episode about home remedies, and confirmed that a ginger pill would cure seasickness without the drowsy side-effects of drugs. A different study found that ginger would solve the terrible "morning sickness" that many pregnant women experience. There have even been some studies that suggest ginger may ease the symptoms of chronic arthritis.
You must admit Mom sure knew what she was talking about when she handed you a Blenheim Ginger Ale. She recognized its blazing ginger heat and zesty taste would relieve the grumbling and rumbling in your belly, and tickle your taste buds at the same time. So always keep plenty of Good Ole Blenheim Ginger Ale on hand during this cold nasty winter season to warm you up, ward off those evil colds, and keep your tummy happy.

2009
By WILLIAM GRIMES
Published: Wednesday, February 25, 1998
THE first swallow brings on a four-sneeze fit. The second one clears out the sinuses and leaves the tongue and throat throbbing with prickly heat. John T. Edge, a food scholar with the Center for the Study of Southern Culture at the University of Mississippi,has compared it to "a slap in the face from a spurned lover." Blenheim Ginger Ale, the sweet-hot pride of South Carolina, pulls no punches, and its feisty approach has propelled it from modest regional fame to cult status.
The beverage was created in the 1890's by a doctor named May in Blenheim, S.C., who added Jamaica ginger and sugar to the local spring water and dispensed it as a tonic for dyspepsia. In 1903, Dr. May and a partner created the Blenheim Bottling Company, which chugged along until 1993, when it was acquired by the company that owns the South of the Border amusement complex. In addition to moving the bottling plant to the amusement park, the new owners developed a milder formula, known as No. 5, which is a shade lighter than the original and has a brass-colored bottle cap rather than a raspberry one.
Pour Blenheim's over ice, which helps cut the sweetness, or use it to kick-start a couple of cocktails. Mixed with Gosling's Black Seal rum and a wedge of lime, it makes a wicked Dark and Stormy, and just a few ounces of Blenheim's does wonders for a cheap bourbon. WILLIAM GRIMES
|