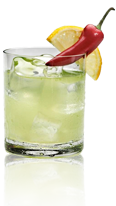 One of our loyal and long time Blenheim Ginger Ale fanatics sent us this recipe for his favorite mixed drink. He calls his cocktail creation "The S.O.B;" surely named after where our production plant is located on the grounds of the famed South of the Border tourist attraction in Hamer, South Carolina. Ok, we're not really sure about that fact, but that's our story and we are sticking to it! His recipe for the "The S.O.B" is pretty simple, but has a very complex flavor combination that provides equal parts of sweet, spicy and sour which come together to form a drink that kicks back like an angry mule.
The recipe:
Using a standard old-fashioned glass or a Collins glass with a couple of ice cubes in it, add a jigger (1.5oz) of your favorite anejo or gold tequila, a ¼ cup (4oz) Blenheim Old #3 Hot, and  .5oz of fresh lime juice and stir slowly so you don't lose all the bubbles and fizz of the soda. Add a slice of lime wedge on the rim, then sit back, relax and sip away with your favorite Mexican food, some Buffalo wings, or a big juicy steak hot off the grill.
Do you have a favorite recipe that calls for Blenheim Ginger Ale? How about the memory of your first sip of our spicy brew and how you were instantly hooked? What's the craziest thing you have done to get a taste of Blenheim in your life? Send us your story and we might just add it to our Blog in the future.
This entry was posted on Tuesday, November 10th, 2009 at 12:33 am and is filed under Drink Recipes. You can follow any responses to this entry through the RSS 2.0 feed. Both comments and pings are currently closed.