Posts Tagged 'Drink Recipes'
|

2010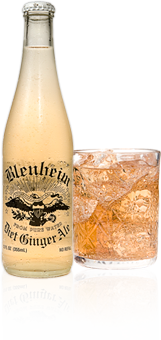 As Memorial Day gets closer and the summer vacation season begins, Blenheim Ginger Ale is the perfect soda for the hot days outside grilling with friends and family. That spicy kick of Old #3 is perfect on a hot day and #9 Diet is just the answer for those who are watching calories to show off their hard work at the gym. If you are traveling along Interstate 95, the best place to buy Good Ole Blenheim is right where it's made, the South of the Border Tourist Attraction at the North Carolina/South Carolina border.
Memorial Day cookouts are a great American tradition. Burgers, dogs, Cheap Jerseys from china chips and punch make for a fun backyard gathering for the entire family. One of America's most famous Southern Cooks, Paula Deen has a delicious recipe for Lime Sherbet Punch with ginger ale. We think it would "punch" up the flavor by using Blenheim #5 Not as Hot for the ginger ale. If you love Paula as much as we do, be sure to show your support by purchasing one of her collections of Southern classic recipes to enjoy in your home the way we do.
Ingredients
2 quarts lime sherbet
6 bottles Blenheim #5 Not as Hot Ginger Ale
1 (46-ounce) can pineapple juice
Lemon slices
Lime slices
Maraschino cherries

Directions
In a punch bowl, add 2 quarts of lime sherbet. Then add the Blenheim Ginger Ale and pineapple juice. Decorate with the lemon and lime slices, and then top with the cherries.
For a complete list of where you can get your Blenheim Ginger Ale fix, be sure to visit our Store Locator page. You can follow us on Twitter, @goodoleblenheim is our name. You can become a fan of our Official Page on Facebook, or sign up to follow our blog by RSS or email. Coming soon, we will be adding online ordering to our site so you can get the fix for your Blenheim Ginger Ale addiction shipped directly to your home!

2010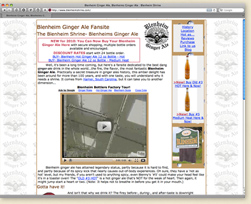 All of us here at Blenheim Ginger Ale in Hamer, South Carolina are blessed to have the most passionate, creative and loyal fans of any soft drink on the planet. Our addictively spicy ginger ale warps the senses on the first taste and traps the drinker in a state of bliss that lasts beyond the borders of South Carolina. We receive notes, order requests and fan mail from all over the globe, and today we will recognize some of our hardcore followers.
Our biggest fan is undoubtedly Blenny from Blenheim Shrine. He has developed an entire website devoted to Blenheim Ginger that has been around much longer than our own site. For many years he has carried the torch for the fire of Blenheim on the web with a comprehensive history, blog and list of suppliers. He also has a Facebook fan page devoted to Blenheim. Another small site that has been around for a decade, Brent Aliverti has a page on his Antimatter Containment Field site with the original flyer copy that used to come with every order of Blenheim Ginger Ale.
Sydney Vaughn is big Blenheim Ginger Ale junkie as well. His email said "I've been drinking Blenheim since living in eastern NC in the 70s and it is truly incomparable." He was kind enough to send us a drink recipe he calls the "Jim and Ginger." His cocktail consists of half a tumbler of ice, a generous jigger of Jim Beam whiskey, a squeeze of orange wedge, and then he fills the rest of the glass with Blenheim Ginger Ale. Sure sounds like a great mix of refreshing fruit juice sparked up by Blenheim's ginger heatwave.
We have received generous notes of support from such far flung places as Japan and Saudi Arabia, and emails from around the corner here in South Carolina and North Carolina. Watch this space for more of your letters, recipes and thank-you notes in the future.  As always if you have a favorite drink, food or memory of Good Ole Blenheim Ginger Ale feel free to drop us a line because we truly appreciate our fans.
You can follow us on Facebook; it's our official page and we'll have updates on all the new developments on Blenheim Ginger Ale as they happen. You can also follow us on Twitter for news, notes and other bits about what's going on with Blenheim Ginger Ale.

2009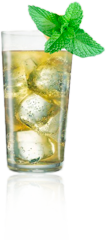 We're back again this month with another delicious recipe or two using Good Ole Blenheim Ginger Ale, brewed and bottled on the grounds of the world famous tourist attraction South of the Border in Dillon, South Carolina. Our old fashioned ginger ale is the perfect complement for a variety of adult beverages, and today we have a recipe for the Light 'n' Stormy, a version of the traditional Dark 'n' Stormy highball.
First, let's begin with the origins of the Dark 'n' Stormy. It's a popular mixed drink in many of the former British Colonies and Caribbean Islands, and it's traditionally been a mixture of ginger beer and dark rum. The smoky and sweet molasses notes of the dark rum make an excellent combination with spicy heat of the ginger beer. It's so well-liked in Bermuda, it's been dubbed the "National Drink" and its recipe has even been trademarked by rum producer and bottler Gosling's Brothers Limited. Whether that's even possible with a drink recipe is debatable, but it's a suitable place to begin our quest for a Dark 'n' Stormy recipe.  Gosling's formula calls for 2 oz of Goslings Black Seal Rum in a glass of ice, then enough Goslings Ginger Beer to fill the glass, and a slice of lemon or lime to top it off as a garnish. There are myriad versions with different flavored rums and other ginger drinks, but that's the official trademarked recipe and it sure sounds good to us after a hot day in the South Carolina sun.
The overwhelming popularity of Blenheim Ginger Ale among the hip and trendy mixologists in America has lead to some new versions of the Dark 'n' Stormy made with Blenheim Old #3 Hot, that's the one with the red cap, in place of the ginger beer. The good folks over at 10 Cane Rum, who produce very high quality premium golden rum, have come up with a version that they call the Light 'n' Stormy. Here is their recipe:
1½ oz 10 Cane Rum
1½ oz Fresh Squeezed Lime Juice (Approx. 1 Lime)
Garnish: Lime Wedge
Fill a highball glass 3/4 with ice. Combine all ingredients and stir. Garnish with a lime wedge.
Blenheim Ginger Ale isn't just South Carolina's favorite soft drink; its popularity extends all the way to the Left Coast where the exceedingly knowledgeable wine editor Jon Bonne of the San Francisco Chronicle came up with a fancy, but yummy sounding, cocktail using Blenheim Old #3. It is another variation on the Dark 'n' Stormy that he has renamed the Last of Our Sea Sorrow, which is a quote from a Shakespeare play. We'll have to take his word on that one because we don't know much Shakespeare, but we sure do recognize the makings of a fine cocktail when we read it:
2 ounces Ron Pampero Aniversario or other dark, aged rum
1/2 ounce Domaine de Canton ginger liqueur
1/4 ounce lime juice
4 oz Blenheim Ginger Ale (hot, preferably)
1 slice lime for garnish (optional)
Mix rum, Canton and lime juice in a cocktail shaker. Add ice and shake vigorously for 10-15 seconds. Either strain over fresh ice cubes into a highball glass and top with ginger ale, or strain into a small goblet and add chilled ginger ale. Garnish with lime.
We hope these fine cocktails and highballs made with Old Timey Blenheim Ginger Ale will enhance your fanatical love and devotion to our products. We would love to hear your favorite uses of Good Ole Blenheim around your kitchen or bar to include in upcoming posts. Thanks so much for all the emails we have received so far and we are working very hard to update our supplier list, develop an ecommerce system, and get Blenheim Ginger Ale into the hands of everyone who craves our fine South Carolina soft drink.
|