Posts Tagged 'Old #3'
|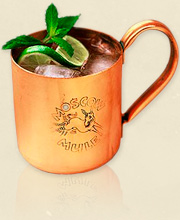 The recent global cooling in Blenheim, South Carolina has our minds turning to a way to stay warm and enjoy a hot, spicy Blenheim Ginger Ale. A sip of Blenheim Old #3 is usually enough to fire up your sinuses, but these extra chilly winter nights have been causing us to think about adding a little flourish to our Good Ole Blenheim.
Vodka is one of the most popular liquors in the world. It is especially popular in the frigid climates of Russia and other northern European countries.  Vodka is made by fermenting such items as grain, rye, wheat, potatoes, or sugar beet molasses. Traditionally the finest Russian vodkas have been made with potatoes, but today most vodka is made from grain or wheat. Vodka shares a certain history with Blenheim Ginger Ale in that both were originally produced and utilized as medicines. Vodka is an excellent antiseptic, and promotes increased blood flow through the blood vessels. A few sips of vodka will instantly heat up the esophagus on the way down, and soon after your belly gets its own pleasantly warm glow the same way ginger-blasted Blenheim Old #3 makes you feel after a big gulp.
A great cocktail that contains vodka and Blenheim Ginger Ale is a Moscow Mule. The Moscow Mule was invented in 1941 by John G. Martin of Heublein Brothers, a spirit and food distributor, and Jack Morgan who owned the Cock 'n Bull Tavern on the Sunset Strip in Hollywood, California. They created the Moscow Mule by mixing ginger beer with Smirnoff Vodka in order to increase the market for both ginger beer and Smirnoff vodka. Their drink is credited with causing a boom in vodka sales during the 1950's, which had been dominated by gin as the American's choice for white liquor. A Moscow Mule was traditionally served in a copper mug, although it's rarely done today.
Here is our Moscow Mule Recipe using Blenheim Ginger Ale instead of ginger beer:
Ingredients:
1 1/4 oz Smirnoff vodka
3 oz. Blenheim Ginger Ale
1 tsp. sugar syrup-(equal parts water and sugar melted together)
1/4 oz. lime juice
1 sprig mint
1 lime wedge
In a cocktail glass, pour vodka over crushed ice. Add sugar syrup and lime juice. Top with your favorite Blenheim Ginger Ale and stir. Garnish with mint sprig and lime wedge.
Of course, as with any alcoholic beverage, vodka should only be consumed in very moderate amounts. Always drink responsibly and savor the flavor; we want everyone around to enjoy Blenheim Ginger Ale for a very long time to come! (It's O.K. to drink as much Blenheim Ginger Ale as you want)
Follow Blenheim Ginger Ale on Twitter with the tag @goodoleblenheim, and check our Official Facebook page for updates on ordering, availability and retail locations that carry Good Ole Blenheim Ginger Ale.

2010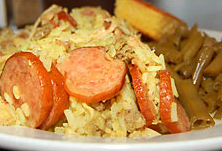 We've explored the possibilities of mixed drinks using Blenheim Ginger Ale and now we have a drink recipe for the whole family using Good Ole Blenheim, South Carolina's native soft drink. We will also talk a bit about a Grand Strand and Low Country traditional meal that would go great with our drink.
Bog punch is a popular non-alcoholic party drink, suitable for kids and adults alike. It's a refreshing, zippy blend of fruits, juices and ginger ale. We think substituting Blenheim Old #3 instead of your usual boring ginger ale will brighten up the taste even more!
INGREDIENTS
8 oz. Cranberry Juice
8 oz. Pineapple (Chunks in juice)
8 oz. Sugar
4 oz. Lemon Juice
1 pint Apple Juice
1 pint fresh Cranberries
1 pint Water
1 bottle Blenheim Ginger Ale- #5 for a bit of extra kick, #3 to really punch it up

INSTRUCTIONS
Bring the cranberries, the sugar and the water to the boil, then let simmer until the cranberries are soft and the sugar has dissolved. Strain and let the juice cool. Then mix the juice with the remaining ingredients and chill. Serve in punch cups and garnish with lemon slices.
This bog punch would be a right at home beside another type of bog, a Low Country chicken bog. There is a festival dedicated to the chicken bog in Loris, SC every October. Many people outside of the Grand Stand and Horry County have never had the pleasure of eating this spicy blend of smoked sausage, chicken and rice. This dish, as well as Blenheim Ginger Ale, is unique to South Carolina. Celebrated Southern chef Paula Deen's recipe shows how this easy one-pot stew can be tasty time-saver for a busy cook.
So this weekend, try out some new recipes for the family. Put a chicken bog on the stove; then brew up batch of bog punch to enjoy while your meal cooks. And don't forget the Blenheim Ginger Ale to give your bog punch and your dinner a South Carolina kick of ginger goodness.

2009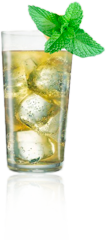 We're back again this month with another delicious recipe or two using Good Ole Blenheim Ginger Ale, brewed and bottled on the grounds of the world famous tourist attraction South of the Border in Dillon, South Carolina. Our old fashioned ginger ale is the perfect complement for a variety of adult beverages, and today we have a recipe for the Light 'n' Stormy, a version of the traditional Dark 'n' Stormy highball.
First, let's begin with the origins of the Dark 'n' Stormy. It's a popular mixed drink in many of the former British Colonies and Caribbean Islands, and it's traditionally been a mixture of ginger beer and dark rum. The smoky and sweet molasses notes of the dark rum make an excellent combination with spicy heat of the ginger beer. It's so well-liked in Bermuda, it's been dubbed the "National Drink" and its recipe has even been trademarked by rum producer and bottler Gosling's Brothers Limited. Whether that's even possible with a drink recipe is debatable, but it's a suitable place to begin our quest for a Dark 'n' Stormy recipe.  Gosling's formula calls for 2 oz of Goslings Black Seal Rum in a glass of ice, then enough Goslings Ginger Beer to fill the glass, and a slice of lemon or lime to top it off as a garnish. There are myriad versions with different flavored rums and other ginger drinks, but that's the official trademarked recipe and it sure sounds good to us after a hot day in the South Carolina sun.
The overwhelming popularity of Blenheim Ginger Ale among the hip and trendy mixologists in America has lead to some new versions of the Dark 'n' Stormy made with Blenheim Old #3 Hot, that's the one with the red cap, in place of the ginger beer. The good folks over at 10 Cane Rum, who produce very high quality premium golden rum, have come up with a version that they call the Light 'n' Stormy. Here is their recipe:
1½ oz 10 Cane Rum
1½ oz Fresh Squeezed Lime Juice (Approx. 1 Lime)
Garnish: Lime Wedge
Fill a highball glass 3/4 with ice. Combine all ingredients and stir. Garnish with a lime wedge.
Blenheim Ginger Ale isn't just South Carolina's favorite soft drink; its popularity extends all the way to the Left Coast where the exceedingly knowledgeable wine editor Jon Bonne of the San Francisco Chronicle came up with a fancy, but yummy sounding, cocktail using Blenheim Old #3. It is another variation on the Dark 'n' Stormy that he has renamed the Last of Our Sea Sorrow, which is a quote from a Shakespeare play. We'll have to take his word on that one because we don't know much Shakespeare, but we sure do recognize the makings of a fine cocktail when we read it:
2 ounces Ron Pampero Aniversario or other dark, aged rum
1/2 ounce Domaine de Canton ginger liqueur
1/4 ounce lime juice
4 oz Blenheim Ginger Ale (hot, preferably)
1 slice lime for garnish (optional)
Mix rum, Canton and lime juice in a cocktail shaker. Add ice and shake vigorously for 10-15 seconds. Either strain over fresh ice cubes into a highball glass and top with ginger ale, or strain into a small goblet and add chilled ginger ale. Garnish with lime.
We hope these fine cocktails and highballs made with Old Timey Blenheim Ginger Ale will enhance your fanatical love and devotion to our products. We would love to hear your favorite uses of Good Ole Blenheim around your kitchen or bar to include in upcoming posts. Thanks so much for all the emails we have received so far and we are working very hard to update our supplier list, develop an ecommerce system, and get Blenheim Ginger Ale into the hands of everyone who craves our fine South Carolina soft drink.
|