2010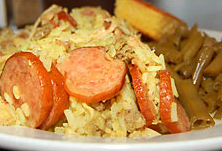 We've explored the possibilities of mixed drinks using Blenheim Ginger Ale and now we have a drink recipe for the whole family using Good Ole Blenheim, South Carolina's native soft drink. We will also talk a bit about a Grand Strand and Low Country traditional meal that would go great with our drink.
Bog punch is a popular non-alcoholic party drink, suitable for kids and adults alike. It's a refreshing, zippy blend of fruits, juices and ginger ale. We think substituting Blenheim Old #3 instead of your usual boring ginger ale will brighten up the taste even more!
INGREDIENTS
8 oz. Cranberry Juice
8 oz. Pineapple (Chunks in juice)
8 oz. Sugar
4 oz. Lemon Juice
1 pint Apple Juice
1 pint fresh Cranberries
1 pint Water
1 bottle Blenheim Ginger Ale- #5 for a bit of extra kick, #3 to really punch it up

INSTRUCTIONS
Bring the cranberries, the sugar and the water to the boil, then let simmer until the cranberries are soft and the sugar has dissolved. Strain and let the juice cool. Then mix the juice with the remaining ingredients and chill. Serve in punch cups and garnish with lemon slices.
This bog punch would be a right at home beside another type of bog, a Low Country chicken bog. There is a festival dedicated to the chicken bog in Loris, SC every October. Many people outside of the Grand Stand and Horry County have never had the pleasure of eating this spicy blend of smoked sausage, chicken and rice. This dish, as well as Blenheim Ginger Ale, is unique to South Carolina. Celebrated Southern chef Paula Deen's recipe shows how this easy one-pot stew can be tasty time-saver for a busy cook.
So this weekend, try out some new recipes for the family. Put a chicken bog on the stove; then brew up batch of bog punch to enjoy while your meal cooks. And don't forget the Blenheim Ginger Ale to give your bog punch and your dinner a South Carolina kick of ginger goodness.
Tags: Low Country, Old #3
This entry was posted on Saturday, January 30th, 2010 at 10:30 pm and is filed under Recipes. You can follow any responses to this entry through the RSS 2.0 feed. Both comments and pings are currently closed.