2009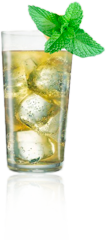 We're back again this month with another delicious recipe or two using Good Ole Blenheim Ginger Ale, brewed and bottled on the grounds of the world famous tourist attraction South of the Border in Dillon, South Carolina. Our old fashioned ginger ale is the perfect complement for a variety of adult beverages, and today we have a recipe for the Light 'n' Stormy, a version of the traditional Dark 'n' Stormy highball.
First, let's begin with the origins of the Dark 'n' Stormy. It's a popular mixed drink in many of the former British Colonies and Caribbean Islands, and it's traditionally been a mixture of ginger beer and dark rum. The smoky and sweet molasses notes of the dark rum make an excellent combination with spicy heat of the ginger beer. It's so well-liked in Bermuda, it's been dubbed the "National Drink" and its recipe has even been trademarked by rum producer and bottler Gosling's Brothers Limited. Whether that's even possible with a drink recipe is debatable, but it's a suitable place to begin our quest for a Dark 'n' Stormy recipe.  Gosling's formula calls for 2 oz of Goslings Black Seal Rum in a glass of ice, then enough Goslings Ginger Beer to fill the glass, and a slice of lemon or lime to top it off as a garnish. There are myriad versions with different flavored rums and other ginger drinks, but that's the official trademarked recipe and it sure sounds good to us after a hot day in the South Carolina sun.
The overwhelming popularity of Blenheim Ginger Ale among the hip and trendy mixologists in America has lead to some new versions of the Dark 'n' Stormy made with Blenheim Old #3 Hot, that's the one with the red cap, in place of the ginger beer. The good folks over at 10 Cane Rum, who produce very high quality premium golden rum, have come up with a version that they call the Light 'n' Stormy. Here is their recipe:
1½ oz 10 Cane Rum
1½ oz Fresh Squeezed Lime Juice (Approx. 1 Lime)
Garnish: Lime Wedge
Fill a highball glass 3/4 with ice. Combine all ingredients and stir. Garnish with a lime wedge.
Blenheim Ginger Ale isn't just South Carolina's favorite soft drink; its popularity extends all the way to the Left Coast where the exceedingly knowledgeable wine editor Jon Bonne of the San Francisco Chronicle came up with a fancy, but yummy sounding, cocktail using Blenheim Old #3. It is another variation on the Dark 'n' Stormy that he has renamed the Last of Our Sea Sorrow, which is a quote from a Shakespeare play. We'll have to take his word on that one because we don't know much Shakespeare, but we sure do recognize the makings of a fine cocktail when we read it:
2 ounces Ron Pampero Aniversario or other dark, aged rum
1/2 ounce Domaine de Canton ginger liqueur
1/4 ounce lime juice
4 oz Blenheim Ginger Ale (hot, preferably)
1 slice lime for garnish (optional)
Mix rum, Canton and lime juice in a cocktail shaker. Add ice and shake vigorously for 10-15 seconds. Either strain over fresh ice cubes into a highball glass and top with ginger ale, or strain into a small goblet and add chilled ginger ale. Garnish with lime.
We hope these fine cocktails and highballs made with Old Timey Blenheim Ginger Ale will enhance your fanatical love and devotion to our products. We would love to hear your favorite uses of Good Ole Blenheim around your kitchen or bar to include in upcoming posts. Thanks so much for all the emails we have received so far and we are working very hard to update our supplier list, develop an ecommerce system, and get Blenheim Ginger Ale into the hands of everyone who craves our fine South Carolina soft drink.
Tags: Dark 'n' Stormy, Drink Recipe, Drink Recipes, Highballs, Old #3
This entry was posted on Thursday, December 17th, 2009 at 12:56 am and is filed under Drink Recipes, News & Press. You can follow any responses to this entry through the RSS 2.0 feed. Both comments and pings are currently closed.